CJ Wilks Marine Surveyors
Chris Wilks RMS. MIIMS. M.I.Diag.E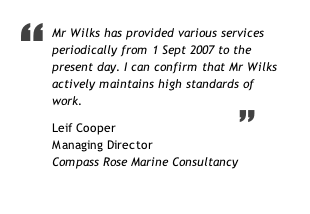 www.cjwilksmarinesurveyors.co.uk



TEL: 01590 688254
MOB: 07806 303740

Buying a marine survey is buying peace of mind. It will give a better idea of exactly what you are getting into with your boat purchase, and help you learn what will be necessary to maintain the vessel in the future to keep you and your family safe, and your investment secure.
Whether you just want an opinion on boats you are planning to view before making a long journey to see them, a full pre-purchase survey, a sea trial or a marine valuation, I can help.
I am a fully qualified and accredited member of the International Institute of Marine Surveyors, with many years experience in marine surveying, boat building, engineering, cargo survey and vessel repair.
Read more about me and the services I can offer.
Before you make the journey to view a boat, get an expert opinion.
The purchase of a boat of any type, is most likely going to the second largest investment you will make in your lifetime. A range of surveys are available.
The sea trial enables us to give a judgement on engine performance and boat handling together with systems testing and a better examination of the sail wardrobe.

A marine survey buys you peace of mind!